We are pleased to announce our beloved founder and H.O.F inductee James S. Barbera to NASTT's Hall of Fame!
Read this excerpt from NASTT's website about our leader James Barbera, or click here to read it from their website.
We are looking forward to seeing the trenchless industry together at this years No-Dig Show!
Excerpt from NASTT website-
"James "Jim" S. Barbera founded Barbco, a family-run manufacturing company, in 1989.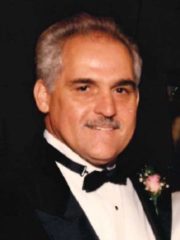 James "Jim" S. Barbera (March 1940 – July 2019) founded Barbco, a family-run manufacturing company, in 1989. And while his career didn't start in manufacturing, his family was always front and center.
After graduating high school, Jim served his country in the U.S. Army. Jim and his wife Fran were married in 1963. Jim was employed by the Canton City Police Department and Fran worked at a rubber glove manufacturing company. Jim's experience in home remodeling brought additional income once their family expanded to include four children under the age of three, including twins. The original fixer-uppers, they would purchase homes, fix them up and rent them out. They amassed 7 homes and were doing well for themselves. Their hard work was paying off.
In 1975, Jim retired from the police department and went into business for himself. He continued his work in construction and got into the pool solar heating business. Jim started working at American Augers for his brother Leo in 1979. During his 10 years at American Augers, Jim oversaw the sales department and had direct oversight of several initiatives including the reconditioning of a 19-ft Robbins tunnel boring machine and being an active organizer in the auger boring schools that were held in Arizona. In 1989 Leo sold American Augers leaving Jim in a bit of a quandary. With Fran's support, Jim continued in the industry and started Barbco, a NUCA (National Utility Contractors Association) Sustaining National Partner. The company ran out of a shop in Twinsburg, Ohio for the first 6 months.
The first of Jim and Fran's children to work for the company was Tony Barbera, who had just graduated from high school. His twin brother, Dave Barbera, started in 1992 and worked primarily in the office. The other children, Chrissy and Jim, worked intermittently during the early years of the company. Barbco continued to expand its product line as Jim saw opportunities in the trenchless industry. He was brought into the fray of Barbco's manufacturing capabilities with products such as directional drills and pilot tube machines. With this growth, Jim continually looked for facilities that would give him the space he needed to build the equipment customers were looking for. In 2003, Jim moved the company to its present location in East Canton, Ohio. Here, Barbco had the space to build and the land to expand his manufacturing when needed. He officially retired 10 years ago and moved South to Englewood, Fla.
Both Jim and his brother Leo were well known with the trenchless industry. In fact, they were both recently honored by the Trenchless Technology Center at Louisiana Tech University. Both were presented with Lifetime Achievement Awards by Dr. Tom Iseley for their contributions to the trenchless industry. Additionally, a new training and educational facility being built on campus is being named in honor of the brothers. The formal name is the Barbera Education, Research & Training facility (BERT).
Jim and Barbco, Inc. have been honored by numerous professional associations.  Nonetheless, his greatest honor has and always will be a large loving family and his loyal employees and customers.  Barbco, Inc. will carry on his legacy with his three sons leading the company and with his many grandchildren hard at work in the family business."
https://i0.wp.com/www.barbco.com/wp-content/uploads/2021/03/HOF-logo-768x768-1.jpg?fit=768%2C768&ssl=1
768
768
jack.barbera
https://www.barbco.com/wp-content/uploads/2020/07/Barbco-Super-B-with-Writing-1.jpg
jack.barbera
2021-03-06 18:11:53
2021-03-06 18:12:45
Barbco's Founder James S. Barbera - NASTT H.O.F